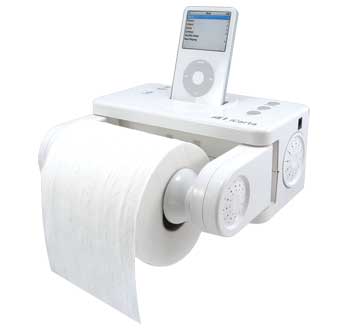 So...what do you and YOUR mom argue about? Acceptable boyfriends/husbands? How tight is "
tight
"? Whether or not it's ok to bury your neighbor's body in the back yard?
My mom and and have a running disagreement about which way the toilet paper goes on the roll. Does the paper hang
over the roll
or
under
? In case you're wondering whose side to choose - I opt for the lovely, flowing swag effect of over the roll. If you want to side with her,
fine
.....I'll be happy to give your her phone number but let me warn you....she took my advice and did NOT bury her neighbor's body in the back yard.....and no one has seen hide nor hair of him in 7 years. I'm just sayin'.
Butt (ha...toilet humor) if someone wants to get me this little baby for Christmas or Ground Hog's Day or National Pancake Day I will hang it any way you say!
I showed my
SIC
and she asked if it's called an
I-POT
? And as she turned to walk away she said "but if you need to stay in the bathroom long enough to need a docking station for your iPod...you need more fiber. I'm just sayin'.....